December 28, 2007 thru January 1, 2008


[ HOME ] | [ E-MAIL ] << Back [ 1997 ] | [ 2000 ] | [ 2003 ] | [ 2004 ] | [ 2007 ] | [ 2009 ] Next >>
For many years we have enjoyed group tent camping with our friends, the Means at Disney's Fort Wilderness Campground, Creekside Meadow area. We camp sometime between Christmas and New Years Day. In the picture below you can see a few of the amenities: tables, grills, water (faucets and hose), volley ball, etc.:

Our oldest son, Paul (Left at red stove) is preparing his "egg-in-the-hole" breakfast (learned from when he was a Boy Scout) for us. His wife Lori (seated, center) snaps photo of our grandchildren (Cameron, John, and Olivia) seated and awaiting breakfast. To left is Wayne and Glen seated (already eating). Wayne's wife Debbie (right) is walking over to join them.
Below is the corner we chose for our tents. Our tent with all the clutter out front (still getting organized) is the green/tan one with maroon awning and trim around windows (photo middle) and Paul's family is the less cluttered tent to the right of ours. The small blue and yellow dome tent is our Grandson Cameron's tent.
In front and to left of our tent, covered with green tarp is the electric (battery powered) 2-wheel scooter that Maw used to travel around the area (outdoor movie theater, heated swimming pool, etc.), since she had bad knees and wanted to keep up with the rest of us who were bicycling.
This is the same scooter that she was walking thru a mulched trail when she inadvertently twisted throttle which caused her to fall onto the scooter. She broke her upper arm bone (humerus) just below shoulder socket. She had to have X-rays and wear a sling for rest of camping trip. It wasn't very pleasant for her. Now that we are home she is still bruised and in pain. She must wear sling for 6 weeks.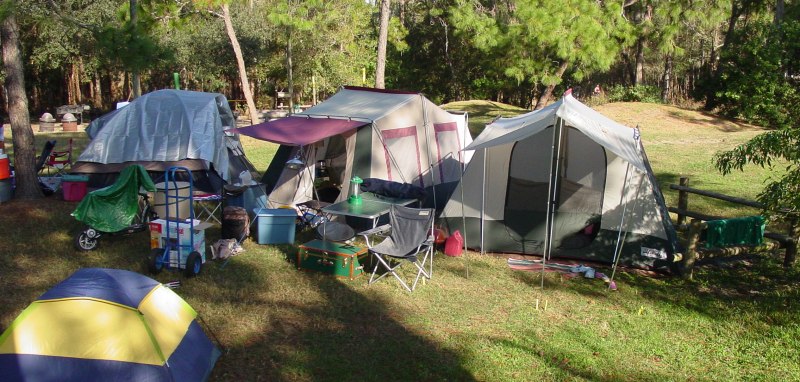 Below: Maw set up our bed nice and cozy with "Merry Christmas" pillow cases and set up her camping night table.

The men (Paul & I) shared the cooking chore and prepared the menus for our camping. Below, I am cooking some mild, sweet Italian sausage to go along with Paul's "egg-in-the-hole" breakfast. The Blue/Green and Yellow mountain bike beyond was my mode of transportation. I also got to use the scooter a lot after Maw broke her arm. Maw is seated to right reading the newspaper with her refillable Wilderness Lodge Mug close at hand. Red/gray tent beyond is Casey's tent (son of Wayne & Debbie).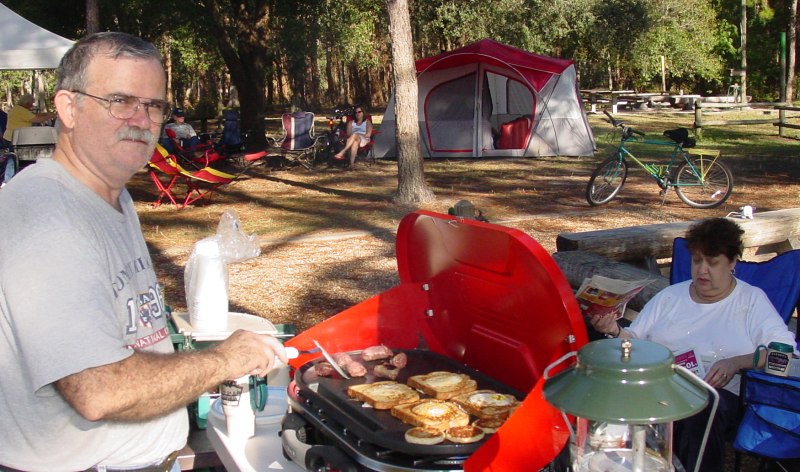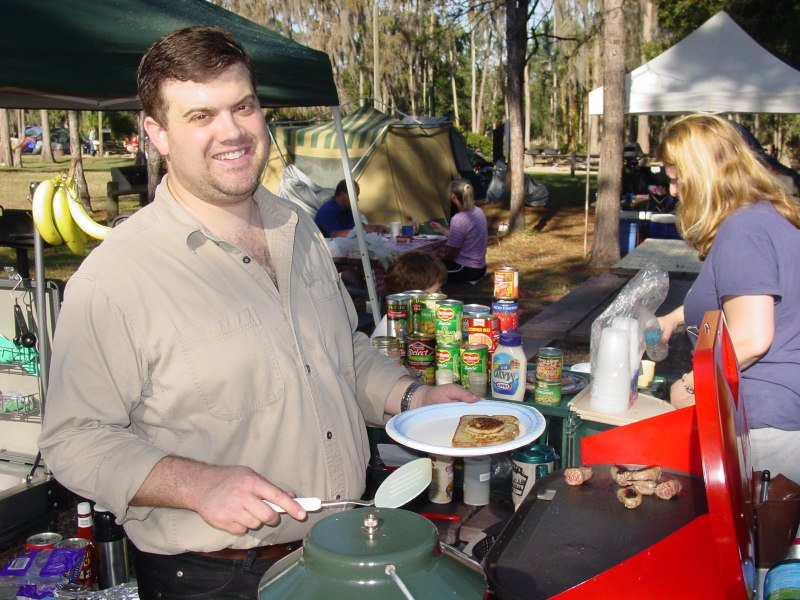 This was the first morning's breakfast: Egg-in-the-hole, sausage, coffee, hot chocolate, and tea.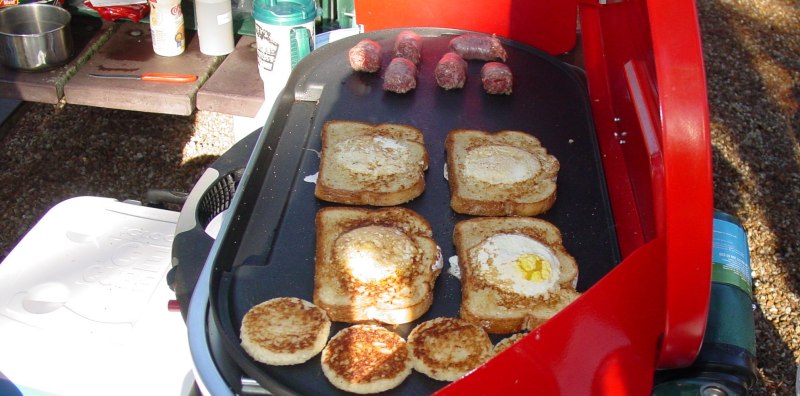 Paul also cooked other meals: hobo stew, hot dogs, corn on the cob, pancakes. He also assisted Old Man Riggs in preparation and cooking of other meals including garbanzo bean soup, corned beef ~ rice ~ tomato gravy, shrimp, talapia, hamburgers, eggs, bacon, grits, French toast.
What about the clean up? Did the men leave the mess for the women? No!!! Paul, Old Man Riggs, and even Maw with her arm in a sling all shared in washing the pots, pans, dishes, etc.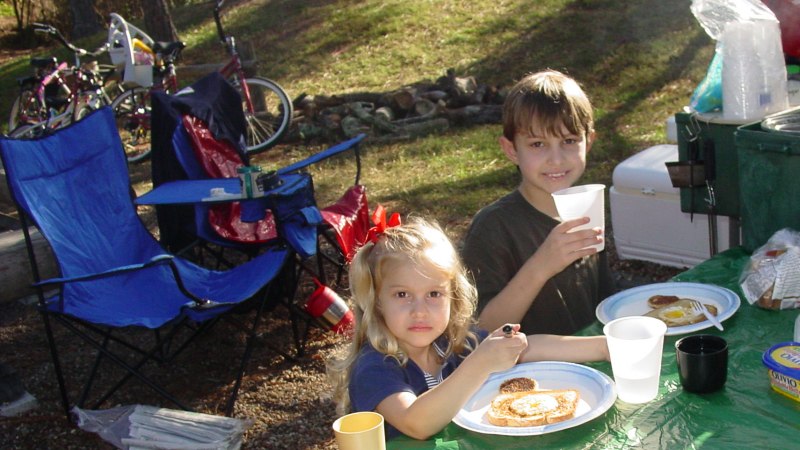 Cameron and Olivia (above) and John (below) eating their first breakfast on this camping trip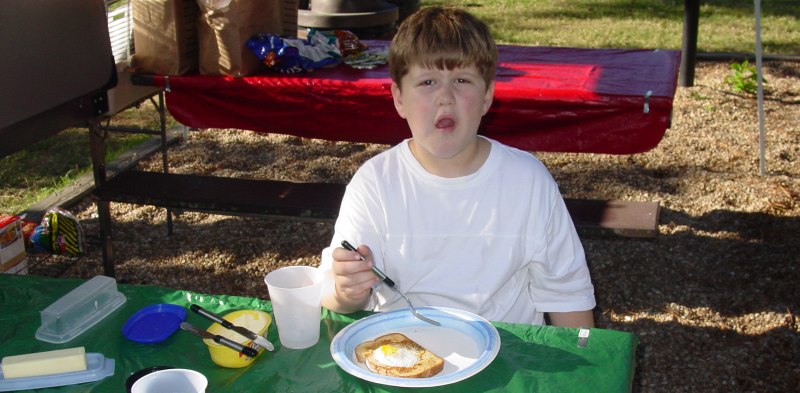 Below: It's pancakes and sausage for Wayne and Debbie. Their tent is the canvas Hillary tent beyond. Wayne takes pride in preserving the old-school tent which he has had for years.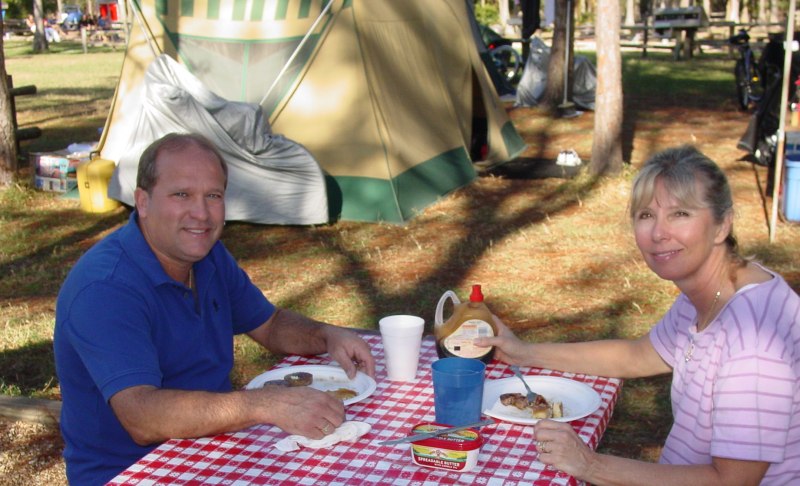 Maw and Old Man Riggs played a new card game "Dummy Rummy" with Marlene and Glen over in the Wilderness Lodge Resort. Marlene is Wayne's Mom. Paul, Old Man Riggs, and others also played some Texas Hold'em by lantern light at our camp.
It did rain a few times, but the weather was warm this year. In spite of Maw's injury, we had a great time with friends and family.


[ HOME ] | [ E-MAIL ] << Back [ 1997 ] | [ 2000 ] | [ 2003 ] | [ 2004 ] | [ 2007 ] | [ 2009 ] Next >>
This document was created on 1/04/08, rev. 01/03/10
©2008 Old Man Riggs, All rights reserved.