[ Dixie Snowflakes Recipe ] | [ Garbanzo Bean Soup Recipe ]
[ Jalapeno Corny Muffins ]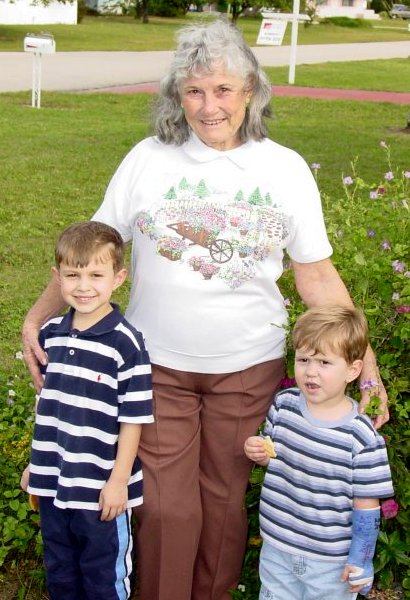 Granny with her great grandson's Cameron & John
Granny is known for her cooking and baking skills. Dixie Crystals says she is one of Florida's Finest! However, most of us already knew that.




Dixie Crystals

®

gives you

Florida's Finest.

Dixie Snowflakes
were chosen from
thousands of entries
in the Dixie Crystals
Recipe Contest



This Dixie Snowflake
recipe has earned
Thelma Riggs of
Ft. Myers the
distinction of
being one
of Florida's
finest cooks.

The above is a condensed version of the advertisement which appeared in the Fort Myers New Press. For the whole thing. . . click here--->Full Newspaper Ad . Note: This is a very old advertisement (probably around 1978), so don't go trying to join their club or ordering fancy coated recipes. The following is an enlarged version of the recipe based on the newspaper clipping.
DIXIE SNOWFLAKES
2½ cups self rising flour
½ tsp. baking soda
1 large egg
½ cup vegetable oil
1 cup DIXIE CRYSTALS
sugar
½ cup DIXIE CRYSTALS
light brown sugar

1 tsp. vanilla
1 tsp. coconut extract
1 tsp. rum extract
¼ cup water
1 cup raisins
1 cup chopped walnuts
DIXIE CRYSTALS 10-X
powdered sugar

Thelma L. Riggs
Ft. Myers, FL

DIRECTIONS:
Mix in large bowl by hand. Mix flour with baking soda. Mix egg, oil, DIXIE CRYSTALS sugar,
DIXIE CRYSTALS brown sugar, vanilla, coconut, rum extract and water. Add flour mixture to
this. Stir until a firm dough is formed. Fold in raisins and walnuts. Shape dough, into 1½ inch
diameter balls with damp hands. Place on greased pans 2 inches apart. Flatten with wet fingers.
Bake at 350° for 10-12 minutes. Cool 1 minute before removing from pan to paper towel. Cool
slightly then sprinkle with DIXIE CRYSTALS powdered sugar.

Dixie Crystals® is a registered trademark of Savannah Foods & Industries, Inc.

That's what the Old Man's Maw looked like back in the late 70's. The recipe is legitimate (but fattening). Look at the Old Man now.... and you can see how fat he got eating his Maw's cooking. He still eats at her house almost every Friday evening.

Garbanzo Bean Soup Recipe
Thelma Riggs (Granny)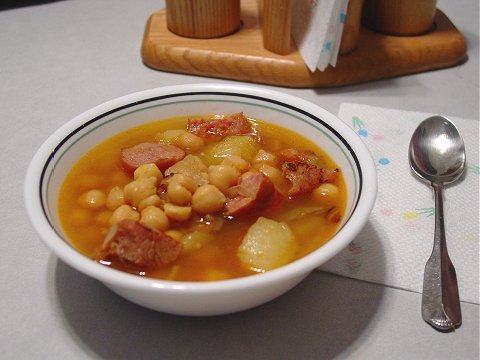 Ingredients:
1 small ham hock, split (smoked ham or salt pork okay)

1 medium size onion, diced or chopped

1 clove garlic, chopped

2 medium size potatoes each cut into about eight pieces

1 tsp paprika

2 cans (15 oz) garbanzo beans (chick peas)

1 link smoked sausage, sliced (pepperoni or Italian okay)

5 drops of yellow food coloring

Salt and pepper to taste
Directions:
Place ham hock (smoked ham or pork) in 3 quart sauce pan (fry or brown a little, then cover with 1 quart of water). Bring to boil, and then add onion, garlic, potatoes, and paprika. Cook on medium to medium high heat until potatoes are about half done. Add garbanzo beans including water from cans (do not drain). Add sliced smoked sausage (pepperoni, Italian, etc.) and 5 drops of yellow food color (very important for eye appeal). Lower heat and let simmer for 20 minutes. Salt and Pepper to suit your taste…do not salt and pepper until soup is done (you may not need much salt or pepper due to salt and spices contained in ham, sausage, etc.). Serve with crackers, toast, or toasted French (or Italian) bread.
Jalapeño Corny Muffins
Dennis Riggs (a.k.a. Old Man Riggs)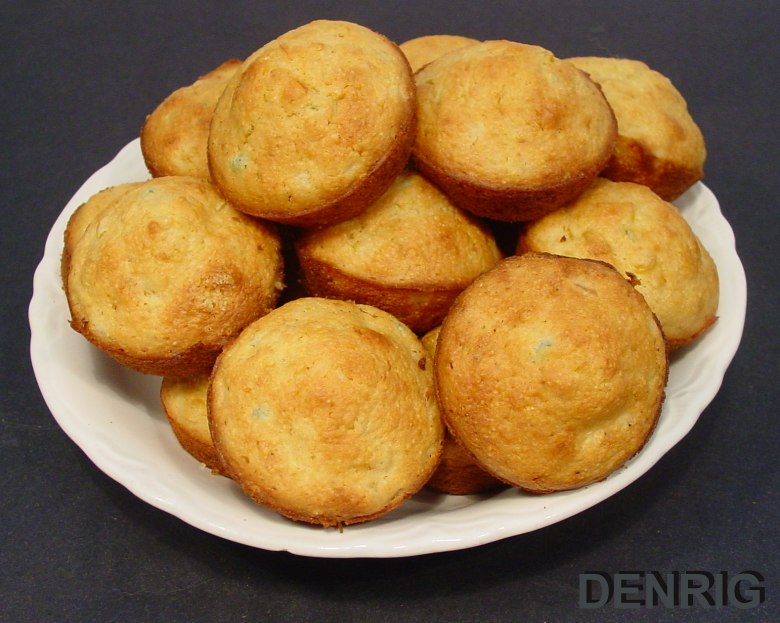 1 – pkg "Jiffy" Corn Muffin Mix (8.5 oz.)

1 – Can Cream-Style Corn (14 – 15 oz.)

3/4 Cup - Self-Rising Flour

1/3 Cup – Powdered* Coffee Creamer

1 tsp – Finely chopped Jalapeño peppers

1 tsp –Olive Oil

2 – Large Eggs
*Important: Do NOT add any liquids. No Milk, No Water. Preheat oven to 400 degrees. Spray muffin tins with non-stick spray (olive oil, Pam, etc.)…or you could use paper baking cups.

BLEND all ingredients. Batter will be slightly lumpy.
FILL muffin cups ½ full
BAKE 15 – 20 minutes (or until golden brown)
YIELD: Approx. 20 – 24 muffins depending on size