Hurricane Wilma hit us about 9:00 AM, Monday, October 23, 2005.
We had many trees which fell on our property. Some took out fences... others blocked driveways and roads, but all missed our house. My car got a cracked windshield and a few scratches.
We were out of electricity until about 10:20 PM on Tuesday, October 25, 2005.
The following are a few of the pictures of our place and a few pictures of our place and a couple of my Mother's property.
Click on images below to view larger images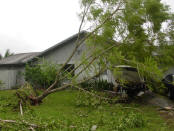 Tree on west side of our house in Alva, FL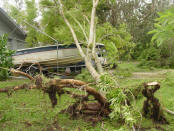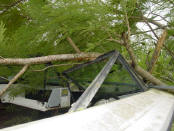 which fell across our boat and car...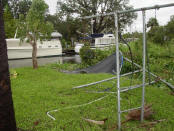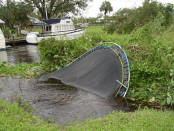 trampoline wiped out swing set and ended up in ditch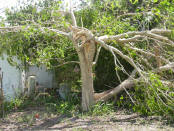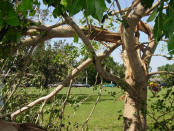 Tree on side of my Mother's (Granny) house in Fort Myers, FL
Click on images above to view larger images