REUNION 1997 - Branson, Missouri - April 1997

The Honeysuckle Inn, Branson, Missouri, April 19, 1997 From left to right:
Sharon & John Weinzeirl, Karen & Rick Lackey, Virginia & Dennis Riggs, Rich & Carol Slate , JoAnn & Denny Davis


[ Extutes Main Page ] | [ Recent Reunion 2003 ] | [ Yahoo Extutes Group ] | [ Slates Webpage ] | [ Links ]
Click on the following images to view larger versions: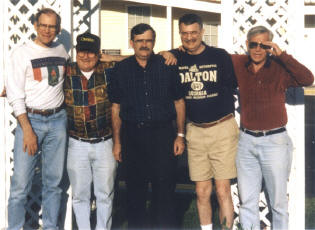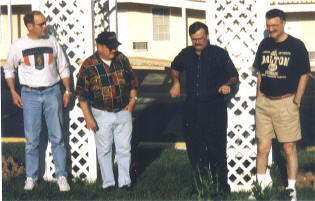 Weinzeirl, Lackey, Riggs, Slate, Davis John, Rick, Dennis (dancing), Rich (laughing)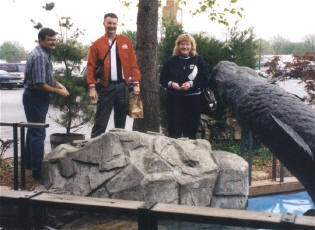 Dennis (tossing pennies in bass mouth), Rich & Carol Slate
Click on the above images to view larger images
We located Doug Griffin; however, regrettably after we were already at the reunion. We missed him. He says he is looking forward to seeing us for our next reunion.

Tim Hansley and Norm & Connie Peiffer were no-shows. However Norm & Connie have recently joined in with our Yahoo Group of EXTUTES and said to count them in for the next reunion (May 15 thru 18, 2003).

Jerry Degan was in Coos Bay, Oregon. As far as I know he is still there. I have recently left a message on his wife Donna's answering machine. Apparently Donna has a business called The Clock Works. I have not heard from either of them yet.

If you know the whereabouts of any others.... or would like more up-to-date information on any of the EXTUTES... please visit our group at Yahoo.

Look at John Weinzierl holding some unknown "Yankee"-type fish. John is the one in the Cheerios hat.... yes that is Rick Lackey in the red hat. This shot taken in Cranberry Portage, Manitoba in 1996. Here is a picture of Rick doing what he does best (sitting in his office, 1988).

Rick & Karen plus JoAnn & Denny at Zion National Park in July of 1996.


[ Extutes Main Page ] | [ Recent Reunion 2003 ] | [ Yahoo Extutes Group ] | [ Slates Webpage ] | [ Links ]
---
©1997 - 2003 Dennis E. Riggs, All rights reserved.