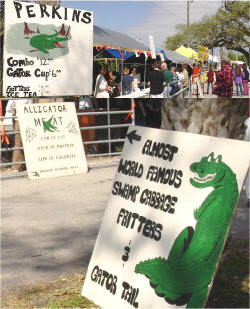 Perkins is a regular at the Festival and serves the good stuff (swamp cabbage fritters & gator tail). "Almost" world famous!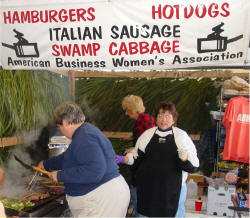 ABWA was my choice this year to whet my yearly craving for the taste of swamp cabbage ($3.50 per small cup) and tasted great! It had great taste, properly seasoned, with plenty of pork... nice texture.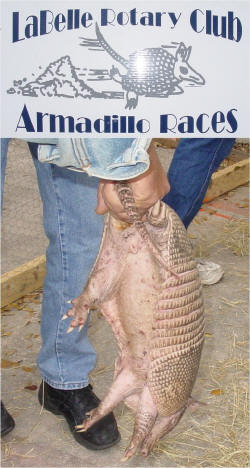 Commission Chairman, W. T. "Bill" Maddox made opening comments in Barron Park and led us in prayer.
Bill is wearing the brightly colored jacket and is in the left picture... the right picture is an armadillo (not Bill) being held by its tail to get ready for the next Armadillo race.
Bill graduated from LaBelle High about a year earlier than Old Man Riggs.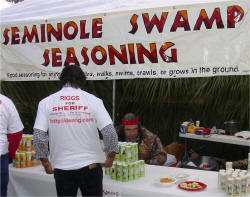 This stuff is good for anything that flies, walks, swims, crawls, or grows in the ground. No, I am not running for Sheriff, but some felt the need to campaign or show their support for their candidate.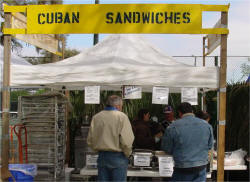 What does Cuban have to do with the Swamp Cabbage? I don't know, but I did consume some great new (for me) food here. The Yuca Relleno and the Cuban Tamale (corn with pork core) were both great-tasting buys at only a $1.00 each.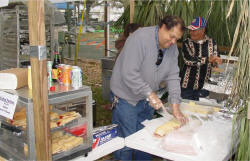 However, the specialty was the cuban sandwiches. The owner says the "secret" is all in the pork. There were also great pastries (quava and cream cheese).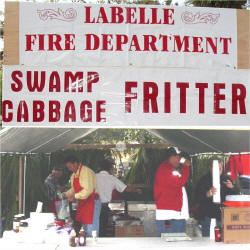 The LaBelle Fire Department gets all fired up to serve the southern delicacy (redneck hors'devours) and a favorite alternative to the standard preparation of swamp cabbage.