The 41st. Annual (2007)
Swamp Cabbage Festival
LaBelle, Florida




[ Swamp Cabbage Festival MAIN PAGE ] | [ 2009 ] | [ 2008 ] | [ 2006 ] | [ 2004 ] | [ 1998 ] | [ Home ] | [ Email Us ]
[ NEXT ] | [ BACK ]
Times, they be a changing...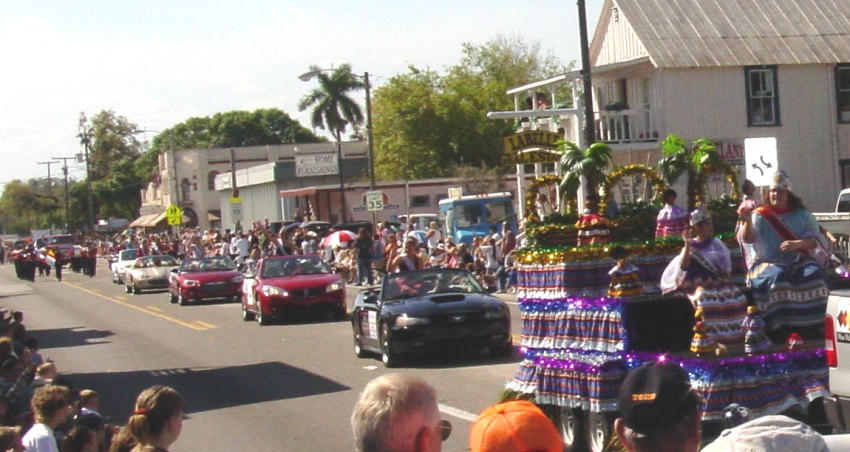 Good News... and Bad News!
First the Bad News:
I went to LaBelle to park close by, sign in at the LaBelle High School Alumni tent/canopy, eat some Pumpkin Fry Bread, browse through my favorite seasonings by Everglades Seasoning® and Gator Hammock™, enjoy generous portions of swamp cabbage. It didn't happen folks! I FOUND NONE OF MY ABOVE FAVORITES!
Parking: I am usually able to park just on the North side of the bridge (78 & 29) and easily walk over to the park before the parade even starts and before the crowd scurries into the park for the grub. Not this time, 78 was blocked off and I had to park over 1/2 mile North of the bridge (at Dr. Shewmaker's Vet Clinic). Why?... I don't know, because as I walked that 1/2 mile, I passed plenty of empty parking spots which I had used in the past years. Unless I missed something (easy for an old man to do).
My Favorite Seminole Indian Foods & Local Seasonings: To my disappointment there was NO PUMPKIN FRY BREAD!. I saw little (if any) Seminole Indians preparing their wonderful cuisine. None of my favorite seasonings could be found. Where did Gator Hammock and Everglades Seasoning booths go?. I purchased 2 small cups (filled 2/3 full) of swamp cabbage for $4.00 a pop. Fritters were ($6 heaped cup at one vendor and $5 for less than level cup at another). This wasn't quite enough to whet my appetite, so I will have to wait until next year for my second helpings.
One place didn't post any prices and when I asked, she said, "Everything is all different prices". She got annoyed when this answer didn't satisfy me and totally ignored me. There sure was enough confused people gawking at what looked like delicious food, but no prices. I guess the others just started pointing to what they wanted and let the price surprise them. This may be great for some, but definitely not to my liking. I wonder how many times she had to say the prices of everything... seems like a sign with prices would have made things easier? My sister, Becky, told me she stood in the line to buy enough for three people, but upon asking the price, quickly realized she would have to settle for enough for one person.
Connection to Friends from the Past: The LaBelle High School Alumni Pavilion/Canopy was GONE! No book to sign and no friendly/familiar faces waiting around that area that I had used in the past as an old meet-up place or a place to sit and chill out and talk with old classmates.
Now... the Good News!
But, that's enough complaining. All wasn't bad. I know, I know, the walk did me good (I can use some exercise) and I didn't really need the extra calories of the pumpkin bread. You're right, my old friends probably got tired of seeing me at the alumni pavilion or else they've gotten so old they wouldn't have been there any way. Yes, Yes, ...The swamp cabbage was excellent and cooked to perfection. The fritters were also no disappointment for flavor. Both were outstanding this year. And I agree, I am just a frugal tightwad who shouldn't have to ask prices in the first place.
There were still a few familiar vendors which I was happy to see and some fascinating "new" stuff. Yep, the Armadillo races were still there...and there were tons of people having loads of fun. It was also a perfectly beautiful day, warm and sunny.
Don't get me wrong... there was still enough other things (old and new) to make it fun for the huge crowd of folks celebrating. First time people that I talked to, really enjoyed the old-fashioned parade and the atmosphere. Keep in mind, I've been attending the festival for over 40 years.
This year Curtis Honey also had some of the best Swamp Cabbage fritters that I've ever eaten.
There were plenty of things to do and see outside the main focus of swamp cabbage. This year there was even an antique and muscle car show and also a custom-made motorcycle competition. I also heard that there was some 4-wheeling muddin' activities going on a little further north in Palmdale.
| | |
| --- | --- |
| | |
| I didn't eat here this year; however, my sister, Becky had the plate and fritters. She said the plate and fritters were both piled high... no skimping here... and that it tasted great! | Love Willadine's Swamp Cabbage Salsa. For more on Willie's Salsa click HERE |
| | |
| The smells of the good eats filled the air. | What!? No prices? |
| | |
| This was different... Gumbo, Dragon, & Loaded | Great Menu, just no prices. |
| | |
| Palmetto Leaves and Lure | Unfinished wooden crafts |
| | |
| Nice day for convertibles | ABWA, Still the best place to get your Swamp Cabbage regardless of size. |
| | |
| Country Wood Works | Smiles from Miss U.S. South Florida Teen and Miss Teen Latino of the Glades made the day worthwhile for me. |
[ Swamp Cabbage Festival MAIN PAGE ] | [ 2009 ] | [ 2008 ] | [ 2006 ] | [ 2004 ] | [ 1998 ] | [ Home ] | [ Email Us ]
[ NEXT ] | [ BACK ]
Return to Home Page
created 02/24/07, rev 02/21/09
©2007, 2008 Dennis E. Riggs, All rights reserved.
"Cabbage Festival" background & theme are an Old Man Riggs Original