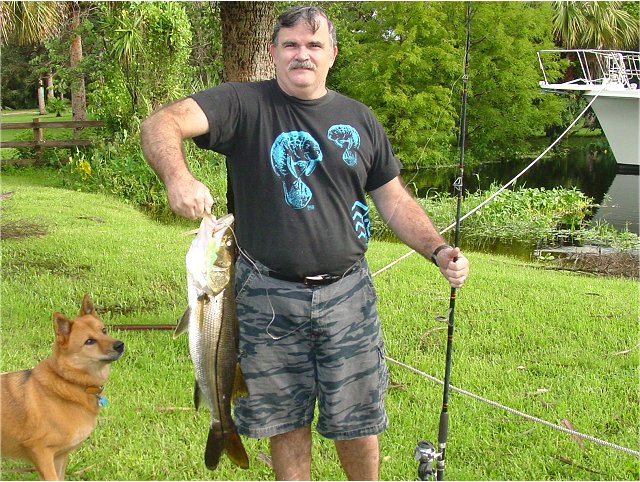 This is what I got out of hurricane "Frances". This nice snook was caught on a chartreuse Banjo Minnow. Our dog, Sarah enjoys watching the fishing as much as Old Man Riggs likes catching them. This fish (our supper) was caught around 8:00 a.m., Monday, September 6, 2004.
This the view looking down our canal from my hammock's perspective.

We have enjoyed living here since September 1990.

I especially have enjoyed being able to fish whenever I wanted.

The canal is a deep water canal which leads to the main Caloosahatchee River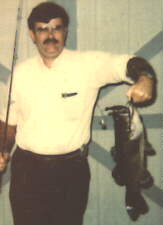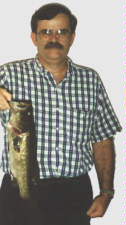 These fish were all caught behind our house in the canal that leads to the Caloosahatchee river. Bass in first picture caught in 1993 on black worm with spinner. The next bass caught on shiny clear lure with lip. "Old Man" came thru with a Snook (using Banjo Minnow®), but while he was taking his Snook inside, Robert caught his first Snook and his second about 8 minutes apart. The last two Snook were both caught Sunday after church (September 28, 1997) on green & white Banjo minnows with weighted hook.

Click to see view of canal looking west. See a picture of 8 1/2" Bluegill which was caught by the "Old Man" behind our house.

A third bass (21") has been added to the Monster Bass page. Take a look at these three bass all caught on the Banjo Minnow®
My introduction to Banjo Minnows®:

I am the type of person that is skeptical about new lures... especially after buying and trying almost everything. I don't like to turn loose of my money.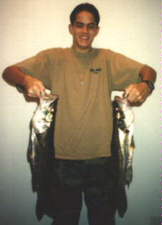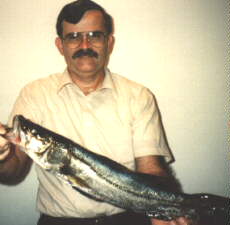 I got started with Banjo's only recently and in an odd way. My son and I were fishing a public lake with public dock next to tennis courts and swimming pool. The water was clear and you could see the bass and they could see you. But like usual they wouldn't even follow my normal array of bass lures, worms, etc. because they were wise to the public and impossible to catch.... even if you cheated and used live or natural baits. I was about to give up.
While fishing a zip-lok bag floated up at my feet. I picked it up and observed some stupid looking rubber minnows. I laughed and showed them to my son. I said, "Can you believe anybody would fish with junk like this?" My son's eyes widened and he said "Those are Banjo Minnows". I said "So, big deal... What are Banjo Minnows" I had not seen the infocommercials advertising them, but my son had. He started in with all this "genetic response" mumbo jumbo and how fish can't resist them. I told him he could fish with them and I would keep trying my "old faithful" lures. He wasn't sure how to rig the Banjo Minnow so he just hooked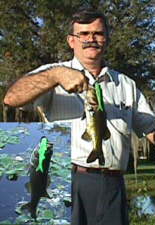 it like a rubber worm and began casting. About the second cast, a nice bass hit it and was hooked.... the Banjo Minnow slide up the line and while he was reeling in the bass, another bass was trying his best to hit the Banjo Minnow that had slid up the line. I couldn't believe my eyes.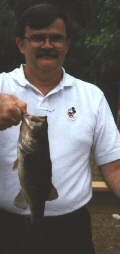 These bass that had turned there noses up at my "good stuff" were going crazy for these dumb-looking minnows.
I don't have a lot of time to fish a whole lot anymore, but when I do, I fish these Banjos. They work when fish are present. They catch any kind of fish that eats real minnows. I like fishing them around people who are not having much luck or make comments like "They just aren't hitting today".


Banjos and Snook:



Snook are a bigtime game fish down here in Southwest Florida. They fight harder and taste better than any bass. Most people do not fish for Snook, however, because they are difficult to catch.

Snook are not easily fooled with lures. Most people fish with live bait (pinfish, shrimp, etc.). It takes a lot of practice and patience to develop the exact technique used to attract a Snook to an artificial bait. They particularly like picking off damaged or injured baitfish after they have hit a school of baitfish. I have over the years developed the right speed retrieve, twitch of the rod tip, and methods of making a Mirrolure or spoon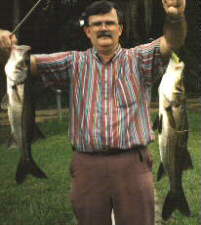 attract a Snook. However, they still mainly follow the lure all the way in and refuse to hit. It was a rare and valued event when I could get a Snook to actually hit.

The hit is only the beginning. It is a long way from a successful landing. You have to be on you toes and hold your mouth right to defeat this defensive and skilled fighter. After jumping like a tarpon and shaking their heads with jaws wide open trying to dislodge the hook, they run deep for any obstruction (boat motor, dock post, anchor rope, etc.) to try to wrap or catch the line on the obstruction to eliminate the use of drag and snap the line. Of course if you didn't have a good 30# steel leader you would have never made it this far, because Snook are equipped with razor sharp line cutters on the sides of their gill covers. When they flair their gills and turn their head the line would be immediately cut if no leader were used.

All this brings me to the effectiveness of Banjo's on Snook. I enjoy a challenge. Catching Snook is a challenge. Catching Snook (a saltwater fish) in totally fresh water is more of a challenge. What makes it tough at the canal behind my house is that we are on the freshwater side of the Army Corps locks. Snook have to make it thru these locks when they are opened for passage of boats on the Caloosahatchee River. The Snook have been acclimating all the way from the Gulf until they are able to feed in the fresh water. Snook are early morning (after sunrise) and early evening (before sunset) feeders. They only eat live bait (no scavenging, no bottom feeding).

On the day that I caught these two nice Snook (in the photograph) I already new of the effectiveness of Banjos on Snook because I had lost a few because I had been fishing for bass without leaders and Snook had took my Banjos by cutting the line. I had lost some Snook because of improper drag settings. I had also landed a single Snook (also pictured on my webpage) previously. I now was properly equipped with leader, proper drag setting, gaff hook (necessary for landing the big ones), and the confidence of a recent successful Snook landing to my credit.

I fished the Banjo like any other lure except it had all the right moves and action it needed. I didn't have to be an expert to make it look injured. It was a natural. On this particular day the water was flowing from recent rains and I decided to use the weighted hook that comes with the Banjo kit. The weight allowed the minnow to die and fall thru the flowing water. The Snook loved it. They would hit it, spit it out and hit it a second time on the same cast. It was no time before I was able to set the hook well enough to stay in. The first one was a keeper. They have to be 28 inches long and you are only allowed two (2) fish per day. I showed the Snook to my neighbor. He was excited. I told him that I had caught it on the Banjo (had to give him the whole spiel about them). I told him I had another Mitchell 300 reel and rod already rigged with the Banjo if he wanted to give it a try. He decided to watch as I made a few more cast and explained the actions and techniques used to make the Banjo work. While he was closely watching the Banjo, the bigger of the two Snook hit, jumped, fought, zigged, zagged, pulled out line against the drag until finally he was worn out. I let my neighbor gaff him for me. He was thrilled and sold on the Banjo. I gave him an order form for the kit and video the same day.

Preparation:

The Snook has scales, but must be skinned to taste right. I prefer filleting, cutting into fingers, salting, peppering, flouring with self-rising flour, dipping in milk then back into the flour, and deep frying. It will taste better than bass, grouper, or any fish that I have ever eaten. Some African Snook is legal in restaurants and is okay, but nothing beats cooking your own catch before it has ever been frozen.