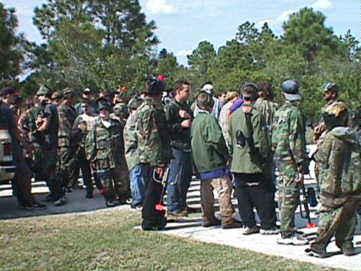 The Trespasser's Paintball Militia Club
"Barrel Plugs in, Safetys on, Single File Guys!"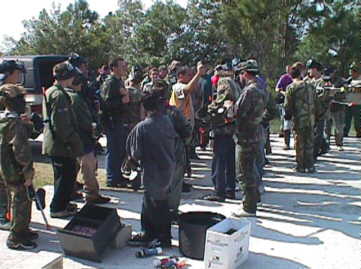 Keith giving bomber game instructions
"This is what a bomb looks like guys!"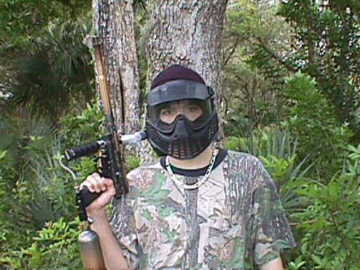 Robbie (Old Man's son) hung the flag for the tie-breaking game 2-22-98. Take a look at Robbie's custom painted Spyder...or another picture of Robbie.
The paint jobs on Robbie's & the Old Man's guns were done by the Old Man.
Take a look at another good color combo, red-gray fade with silver marbleizing.
These are economical paintjobs using automotive primer, enamel, and clear coat. It has been holding up very well for the Old Man, Robbie and his friend Billy (who owns the red-gray Spyder.
The Old Man's oldest son, Paul also enjoys playing paintball at Keith's Field... as does the Old Man's daughter, Jennifer.
Take a closer look at the custom paint job on the
Old Man's Automag.